Windows Phone 8107 update being rolled out next week on O2 UK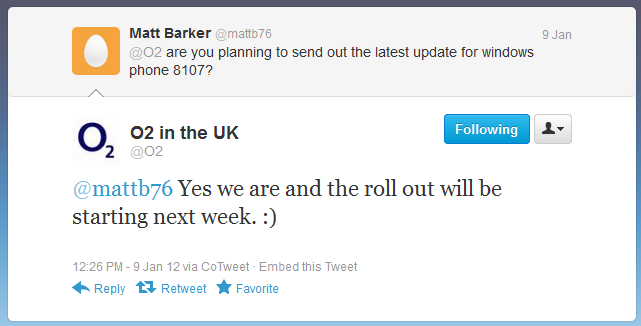 O2 UK have stated on their twitter account that they will be releasing the 8107 update to their users sometime next week. This update will fix a lot of minor problems with their Windows Phones, which are as follows:
Resolves a Gmail syncing issue.
Fixes a location access issue. With this fix, the Me feature in the People Hub sends anonymous information about nearby Wi-Fi access points and cell towers to Microsoft only if you agree to allow the Check In function to access and use location information.
Revokes digital certificates from DigiCert Sdn Bhd to address an encryption issue.
Fixes an email issue related to Microsoft Exchange Server 2003. With this fix, when you reply to or forward a message, the original message is now included in your response.
Fixes a voicemail notification issue.
There is currently no word on the timeline for the update being released on any of the other UK networks, but we will keep an eye out.
Posted by henrymgray at 4:49 PM EST